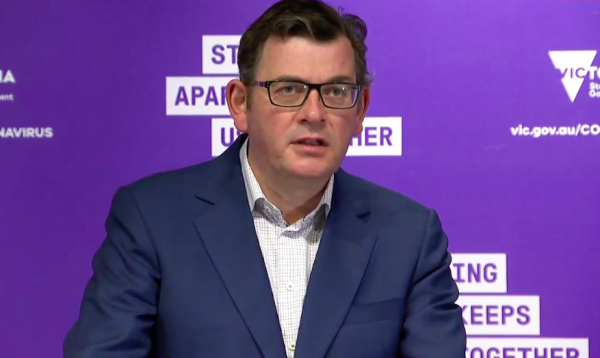 x
Retail and hospitality businesses are about to reopen in metropolitan Melbourne.
Victorian Premier Daniel Andrews has announced a number of Covid-19 restrictions will ease from 11.59pm on Tuesday, 27 October.
"We are able to say that now is the time to open up," he said at a press conference on Monday afternoon.
"Now is the time to congratulate every single Victorian for staying the course."
The announcement comes after some 4000 Covid-19 tests in the northern suburbs returned no positive results.
"It was worth waiting to be absolutely confident to be sure that our team had their arms around those positive cases and fundamental control of the outbreak and that is exactly what these numbers show us," Mr Andrews said.
There were still some tests to come back but they were from people isolating at home so widespread transmission could be ruled out, he said.
There are 91 active Covid-19 cases across the state, with zero recorded on Monday. The 14-day average for metropolitan Melbourne is 3.6.
All retail will open from 11.59pm on Tuesday, 27 October.
Mr Andrews said it was appropriate to wait until then to allow businesses to be Covid-safe and Covid-ready, and to give people notice.
Restaurants, hotels, cafes and bars will reopen as well.
"Indoors, there will be a maximum of 20 people, seated, with 10 people per space," Mr Andrews said.
"Outdoor, a maximum of 50 people with one person per two square metres. Beauty, personal services and tattooing, provided you can wear a mask, will reopen."
Other changes from 11.59pm on Tuesday 27 October include:
– Outdoor community sport for under 18 and outdoor non contact sport for adults will recommence
– The four reasons to leave home will be removed
– The 25 kilometre travel limit remains in place and the regional metropolitan border remains in place
– Outdoor gatherings remain at a maximum of 10 people, infants under 12 months are not included in the calculation of 10. Gatherings will no longer be limited to just two households to can be more than two households but the group cannot exceed 10
– Workplaces will no longer need to be on the permitted work list to open
– Outdoor religious ceremonies allowed for up to 20 people, in addition to those required for the service. Indoor services allowed 10
– Weddings will increase to 10 people, and funerals up to 20
An announcement about home visits will be made on Tuesday.
"We will wait until tomorrow to give people a clearer sense of what they will be able to do from midnight tomorrow night," Mr Andrews said.
"We do not want to do a bubble because we think that can be a particularly confusing set of arrangements for families, but we have not quite settled and we must understand, all of us, the most dangerous environment for the spread of this virus is in your home.
"When you have visitors you let your guard down and they go back to their house, they have visitors and all of a sudden there are chains of transmission that spread silently and very quickly."
More restrictions will be eased from 11.59pm on Sunday 8 November. The changes include:
– The 25 kilometre travel limit and metropolitan regional border will be removed 
– Gyms and fitness studios will open, with a maximum of 20 people per space, one person per eight square metres
– Restaurants, hotels, cafes and bars will move to an indoor maximum of 40 with 10 people per space. There will be an outdoor maximum of 70 people with one person every two square metres
– Indoor pools allowed to have 20 people
– Faith gatherings outdoors allowed maximum of 50 people plus one faith leader, indoors maximum 20 people plus one faith leader
– Funerals indoors allowed a maximum of 20 mourners, outdoors a maximum of 50 mourners
– Accommodation will reopen
"On 8 November we will be able to, fully explain to every Victorian city and country, what the re November looks like, and what a Covid-19 Christmas will look like," Mr Andrews said.