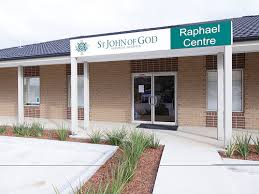 FOR years, many women often suffered in silence. But thanks to increasing media exposure, public campaigns and word of mouth, more and more women suffering from perinatal health issues are getting the help they need and the respect they deserve.
One of the places women are going to get such help is the St John of God Raphael Centre. Raphael services have been operating in Berwick since 2006, providing specialist perinatal and infant mental health services to families living in Casey and Cardinia. The highly-trained mental health staff offer a comprehensive assessment and treatment service for parents affected by anxiety, depression or related mental health disorders during pregnancy and throughout the two years following the birth of their baby.
Dr Lucinda Smith, a perinatal psychiatrist and clinical director with the Raphael Centre said early intervention was crucial.
"We know that the mum-to-be's physical and mental well-being can influence the well-being of their baby, so it's crucial that they get support at this time," she said.
"We see some women who have had a past history of depression or anxiety, or women who are currently being treated for those conditions and want advice before heading into their pregnancy. It is always best to act preventatively. If we get in early and have a plan, then we can increase their social support. We can help women realise the things they can do for themselves and have strategies put into place.
"We also see women who are already pregnant- they may have questions or need assessment. Then we would see and some mothers and some fathers in the post-natal period."
Dr Smith said that around 10 per cent of new dads were also affected by depression. If their wife had depression, then they were 50 per cent more likely to also get depression in the post-natal period.
"There are many factors that contribute to post natal depression and anxiety. Certainly there is hormonal changes that have an impact, but becoming a parent can be a big stress in a number of ways. It could be financial changes, adjusting to a new role, being out of the work-force- a number of factors."
Dr Smith said it was important for anyone who was finding it difficult to adjust to their new role, weren't enjoying time with their new child, or felt something wasn't right, to ask for help.
"It can be quite hard some for women to ask for help. For some first-time mums, it's the first time they are experiencing such symptoms and they aren't sure if they are normal or not. If they aren't unsure, they should discuss their feelings with their general practitioner or maternal health nurse," she said.
"The Raphael Centre is a specialised, secondary level perinatal mental health service, meaning they deal with the more moderate degrees of distress and illness and those situations requiring specialised perinatal expertise. Mild or less complex presentation of perinatal anxiety / depression or adjustment to parenting would be best dealt with by primary level services such as a GP, general community supports or psychologist."
For more information, contact your doctor, or visit www.sjog.org.au, http://www.mchnv.com, or www.panda.org.au.