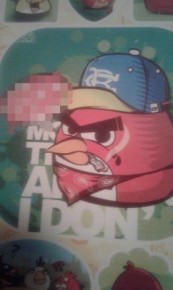 By Georgia Westgarth
A STICKER book aimed at children and sold in the kids section at a Hampton Park variety store has the F-word on every page.
The 'Angry Birds' themed six-page book features the well-known red bird, 'Terence', smoking and wearing a snap back and bandana, with a speech bubble which reads, "Mather f*****".
A rebellious Terence appears in this state on each page among other Angry Birds characters.
Pakenham mother of six, Tammy Wells, bought the offending sticker book on Friday 29 April unaware of what lay inside.
"I purchased two sticker books from the variety shop for my three-year-old daughter," Ms Wells said.
"They only cost about $2 each and the female sales assistant never said anything to me.
"One turned out to be completely fine but I couldn't believe what I was seeing when my eight-year-old son pointed it out to me."
Ms Wells said the front cover was quite misleading and took to social media to warn others.
"I've bought Angry Birds merchandise before and never had an issue, it's a children's cartoon and normally I wouldn't think twice to buy something of that nature," Ms Wells said.
"The front cover looked harmless."
Ms Wells has confiscated the book from her daughter Sophie, but said she's "really disgusted".
"I'm lucky my son was playing with Sophie at the time and spelt it out to me because he knows he's not allowed to swear but he knew it wasn't right, he asked me what it means," she said.
"I can't believe that it is being sold as a kid's book and there were others for sale – they have to be taken off the shelf."
A Pakenham resident of 10 years, Ms Wells said she rarely went to Hampton Park and wouldn't be shopping there again.
"You expect a shop to check their deliveries before misleading customers," she said.
The made in China sticker book was sold at a discount store in Hampton Park Shopping Centre on Hallam Road.