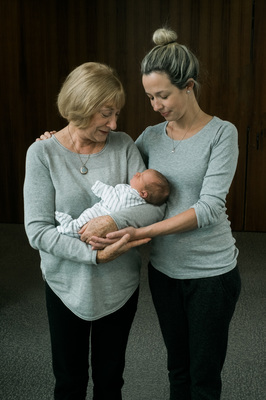 Becoming a grandparent is one of the greatest joys in life.
Most people are overcome with excitement when they discover they're about to become a 'grandma', 'nanna', 'grandpa', or pop' for the first time.
They may also feel a great deal of anticipation about their new role.
After all, it's probably been a long time since they've looked after an infant.
While the fundamentals of baby care have remained the same, some things have changed.
St John of God Hospital, Berwick, runs regular grandparent education classes to help grandmothers and grandfathers feel confident about navigating their new role.
The classes are all about providing useful advice so grandparents can give valuable practical support to the new parents.
"It's not necessary about taking the baby, but about how they can be the best support to the new family," Maternity Unit Manager Amanda Owen explained.
Topics covered include how to recognise a sick baby, how to wrap and settle a baby and how to support the mother in feeding their infant by breast or bottle.
Ms Owen says there have been changes in the breastfeeding space in recent decades, with the focus now on the baby being full rather than specific measurements of milk.
There has also been the development of safe sleeping guidelines.
The other major change, she says, has been a shift in the roles of fathers.
"Usually, they (expectant grandparents) went through a baby phase where we weren't necessarily encouraging the involvement of the dad – it was about the mum looking after the baby," she said.
"They probably were parents through an era where it was women's work."
During the sessions, participants are also given a guided hospital tour and a run-down of the visiting rules.
The sessions are only offered to grandparents and significant others, such as aunts, of children born at St John of God Hospital, Berwick.
Participants are asked to make a $5 donation. Coffee and tea is provided at the sessions, which are held once every two months and run for 2.5 hours.
For more information, call 8784 5300.