By Mitchell Clarke
At just 17-years old, Ammersen, better known as 'Ammi', became a mother to her first son Jiyah.
Now, the 20-year-old is starring in the second series of Teen Mom Australia with not one – but two babies, after she welcomed her second son, Nakoah, into the world.
The young mum, who also featured in the first series of the hugely popular spin-off show which follows the lives of pregnant teens and teen mums, has been "put to the test" in season two.
The show documents four teen mothers – Ammi, Akosita, Georgina and newcomer Tanisha, as they try to find the right balance between childcare, relationships and teenage life.
After growing up in the Mornington Peninsula, Ammi moved to Pakenham about two years ago, where she has been raising her two youngsters with her childhood sweetheart, Jordan, ever since.
Despite motherhood being one of the most challenging, exhausting and thankless moments of a woman's life, Ammi wouldn't change a thing.
"It's exhausting, but so much fun," she said, when asked about being a young mother.
"The whole experience (of being a mum) is amazing. They are both walking and talking and have the best little personalities and it makes me so happy to know I raised them to be just that.
"They are both absolute sweethearts. I do not know where I'd be without my babies."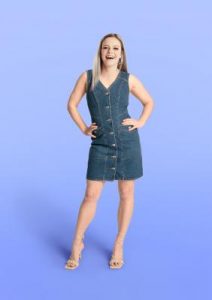 But the journey to becoming a young mother was anything but planned.
"I never really made the decision to become a teen mum," she said. "When I fell pregnant with Jiyah it was honestly unexpected."
As for her decision to publicly share her entire life on a reality television program, Ammi said she stumbled across the opportunity while scrolling through social media.
"There was an open casting call getting shared around Facebook and my partner saw and said 'don't you dare'," she recalled.
"So at first I honestly did it for a laugh, a bit of a joke really not thinking I'd get in, and one and a half years later here I am.
"The actual experience is one of a kind, and it's honestly been an amazing experience to document our lives."
And while the series might be some light-hearted entertainment for viewers, Ammi hopes being part of it will bring some awareness to teen pregnancy and provide positive representation for young parents.
"I think the biggest thing people often assume is that a young mum equals bad parenting and that's just not the case," Ammi said.
"People are far too quick to judge when it comes to other people's parenting.
"The message I hope to spread is that you shouldn't care about what anyone has to say about you. You can do anything you put your mind to."
Since the launch of the Teen Mom franchise in 2010, more than 7.4 million Aussies have tuned in to watch the show.
The second season premiered on 27 October on MTV and 10 Shake.