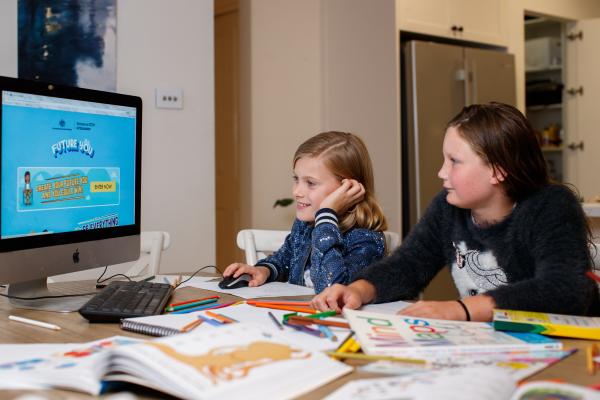 By Melissa Grant
Girls are less likely than boys to pursue a career using science, technology, engineering and mathematics (STEM).
That's why a nationwide campaign has been launched to inspire more female students to choose STEM subjects and open their eyes to careers that use these skills.
Even in primary school, girls are less interested in STEM subjects, with gender stereotypes having a major impact.
Studies, for instance, have shown that most children perceive science as a male profession.
When asked to draw a scientist, children draw nearly twice as many male scientists than female ones.
Furthermore, girls are perceived as not naturally suited to STEM subjects – boys are seen as better at numeracy, while girls are seen as better at humanities.
It's concerning given that STEM is a big part of many new jobs and jobs of the future.
To tackle the issue, the federal government has launched Future You, an initiative that aims to smash gender stereotypes around STEM.
Since launching in October, more than 2.3 million young Australians and their parents and carers have explored Future You, an online platform aimed at children aged 8 to 12.
The platform features 12 diverse and relatable characters, including a builder, miner, game designer, farmer, nurse, ecologist and a Moon to Mars Mission Director. It also includes video animations, skill-based games and information about STEM.
Children's perceptions of STEM jobs as being for women, or women and men equally, improved after engaging with the platform.
Before the campaign, only 20 per cent of girls aged 8-12 said they were 'very interested' in STEM but after seeing the Future You online platform, that increased to 68 per cent.
Boys have also benefited, with strong interest in STEM increasing from 43 per cent to 60 per cent after interacting with the career videos, games and quizzes.
The Future You Initiative is led by Australia's Women in STEM Ambassador, Professor Lisa Harvey-Smith.
She says the statistics are "extremely encouraging" given that two years ago, 27 per cent of Year 11 and 12 girls considered STEM-related subjects compared to 48 per cent of boys.
"Future You is showing the power of engaging with our younger generation to ensure women study, enter and stay in STEM careers down the track," she said.
Prof Harvey-Smith said STEM skills would be needed in areas where there would be massive skills shortages, including digital, cyber security, green energy, manufacturing and the space industry.
"When you say STEM, people think of scientists in a lab coat. But it's environmental scientists, creating solar power in solar cars, digital skills we need in the internet age. Really, STEM is everywhere in every industry," she explained.
Prof Harvey-Smith says there is a real need to smash gender stereotypes around STEM.
Children as young as six years old, she says, are influenced by gender stereotypes which can impact their interest in STEM. By the age of 10-14 years, the STEM gap between girls and boys widens.
"We know the 8-12 year age group is critical to longer term interest in STEM careers," Prof Harvey-Smith said.
"The Future You platform was designed to engage these children and excite them with the many career options that require STEM skills and more importantly, to show that these jobs are for everyone."
https://www.womeninstem.org.au/futureyou/