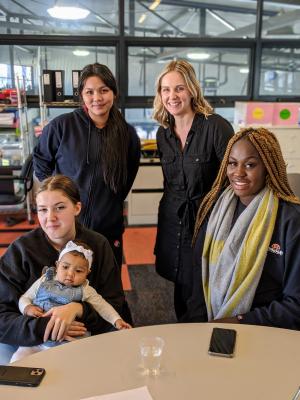 By Melissa Grant
My life is over. I can't finish school. I'm worried about what everyone will say.
These are just some of the thoughts that can run through the mind of a young person when they discover they are about to become a parent.
Pregnancy can derail a young person's education, making it difficult to establish a career and secure employment to help provide for their child.
Thankfully, it doesn't have to be that way.
The Young Parents Education Program (YPEP) is enabling youth aged 13-22, the opportunity to finish Year 12 and establish a career path.
The program already has two centres in the City of Casey, and there are plans for a third and another in the Cardinia Shire.
Young mums and dads undertake a VCAL course, and have access to support and advice from experts about parenting, early childhood development, financial literacy, mental health, legal, housing and more.
The classrooms have cots and baby toys. Students can bring their babies to class, until their babies are 12 months or of walking age, and a parent supporter is there to help with feeding, changing, settling and sleeping.
Teachers help students reconnect with their studies in a flexible way – studies can be completed over a few years if need be.
The program also allows participants – some who have found themselves disconnected from their friends – to socialise with others in a similar situation.
Since beginning as a pilot program at Cranbourne five years ago, YPEP has been a huge success.
YPEP Project Leader Mary Tresize-Brown says 100 young people have already graduated from the program.
Importantly, all have been assisted with a pathway to a rewarding career.
"Many of them have gone into traineeships and apprenticeships, and some have gone onto tertiary studies such as nursing and psychology," Ms Tresize-Brown explained.
"Others have gone into administration, the travel industry or early childhood education.
Mary said YPEP is a vital service for the City of Casey and nearby areas given how many young parents there are.
"We know that across the Casey, Cardinia and Dandenong local government areas, the 2016 census data indicated that there were 1110 parents aged between 13 and 20," Ms Tresize-Brown explained.
"So there are a lot of young parents in the area.
"Casey has the highest number and it's probably the biggest region."
The YPEP is at Narre Warren's Foundation Learning Centre and at Hallam Senior College.There are plans for YPEP to be offered at Cranbourne Secondary College, possibly by the end of this year or the start of 2022.
Preliminarily planning is also underway to establish YPEP at Kooweerup.
Monash University is undertaking an independent evaluation of YPEP, with the results expected to be published next year.
Ms Tresize-Brown says the results will demonstrate the benefits of YPEP, and is hopeful more learning hubs will be set-up across the country.
"Our aim is for YPEP to be replicable and sustainable," she said.
"The evaluation will demonstrate what we are doing and the benefits of education for young parents.
"We're advocating for the Education Department to extend their level of funding to ensure the parenting role can be provided for schools to offer this program.
"It's not suitable for every school to offer it … but there are definitely a number of schools that could offer it and manage it very well."
If you are interested in joining the YPEP or would like more details, please contact Mary on email mtresizebrown@sellen.org.au or phone 0430 445 187.