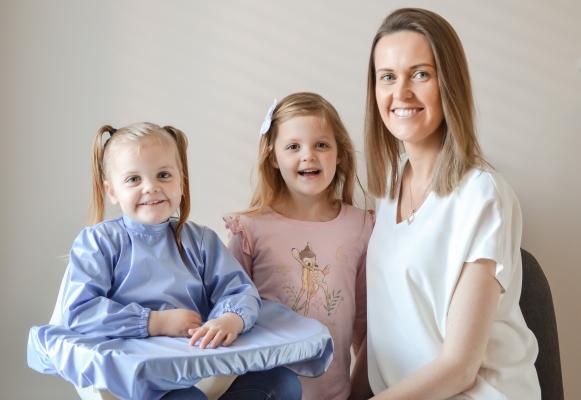 Many parents are familiar with the struggle of cleaning up after a baby who has made a mess of their high chair and flung food onto the floor.
For Berwick mum Stephanie Miller, that nightly hassle sparked a genius idea that led to a successful small business.
One night, Stephanie was scrubbing spaghetti bolognese off her eight-month-old daughter's high chair. With bits of bright-coloured spag bol spread across the highchair tray, the seat and underneath the chair, she thought there had to be a less messy way to feed an infant.
So armed with some scrap paper and staples to make adjustments, she came up with a mock design for a product that would become a game-changer for parents of messy eaters.
With limited funds, she purchased 2m of fabric, put her sewing machine on the dining room table and got to work.
The Mess Me Not Smock was born.
The smock is designed to fit over the tray and is clipped around the back of the chair to secure it in place.
It catches food and prevents it spilling over the side and onto the floor as little ones move around during their meal.
Afterwards, the washable smock comes off the baby and then off the tray, with the mess collected in the smock so the bits of food can be thrown out.
Since launching the product two years ago, Stephanie has taken more than 2000 orders including some from New Zealand, Singapore and the UK.
Stephanie's small business has quickly outgrown the dining room table and spare bedroom, with the mum of two recently hiring a storage shed and looking into renting factory or office space.
"I hoped that it was going to take off but I didn't expect it to take off the way it has," she said.
The Mess Me Not Smock is made locally and comes in different colours and prints.
An artist in Belgrave designed the print for the printed range, while a Narre Warren woman and her half a dozen staff make the smocks.
Stephanie said parents who had purchased her product were impressed with how much time they saved cleaning up after messy eaters.
"I often get that it's a game-changer. I also get – can I make them for husbands? Do they come in larger sizes is a very common one," she said with a laugh.
"I always feel so chuffed when I get the emails… and the reviews and the photos. I love seeing pictures of the little ones in the smocks."
For Stephanie, the Mess Me Not smock has been a game-changer for her when it comes to work-life balance.
She has been able to work around her daughters Charlotte, 6 and Amelie, 3, rather than return to full-time work.
"While I was on mat leave with my second, I thought I would love to work around my kids. It was hard enough to get the first off to family daycare," she said.
Stephanie has recently been recognised for her game-changing product. She has been named as a finalist for the 2021 AusMumpreneur Awards in the category of Product Innovation.
The winners of the awards, which are all about supporting mothers in business, are due to be announced in mid-September.