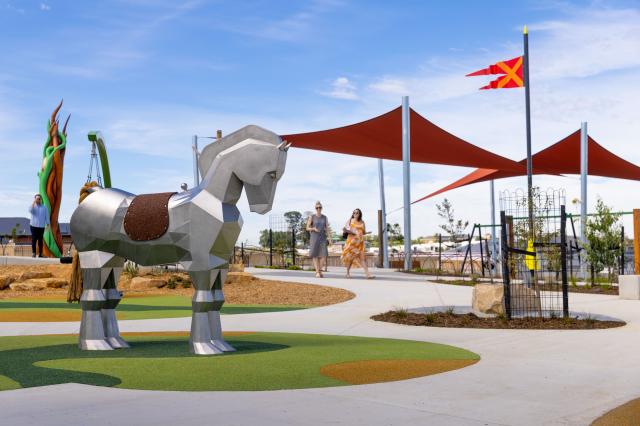 Berwick's long-awaited fantasy themed playground has opened
The $3.54 million 'Hilltop Park' playground features castles, knights, princesses and fairies. The design also includes a castle with an Excalibur sword set in stone, a gnome house and adjacent mushroom area, multiple slides, and a life-size steel 'climbing' horse.
There's also an array of accessible features, such as a quiet space complete with teepees, all-access walkways, and shaded accessible swings.
Plus there are facilities for community events, including an amphitheatre, BBQs, free WiFi and plenty of seating.
The park, located in Stockland's Minta estate, opened in mid-December.
The playspace and reserve has been developed by Stockland in collaboration with Variety – the Children's Charity, and thoughtfully designed by Urban Edge to cater for children and families of all abilities.
Kerry Balci, Project Director at Minta said: "At Stockland we are committed to creating inclusive playspaces for all children to enjoy together. We are thrilled to be bringing this magical park and reserve to the community.
"Our parks and playspaces are an integral part of all of our communities and provide an opportunity for residents to come together and enjoy a healthy and active outdoor lifestyle."
Adjacent to the fantasy playground is the Hilltop Park, featuring an artwork 'Calling of Creation' by prominent Indigenous artist Robert Michael Young which tells a Dreamtime story.
The fantasy playground will be named by residents of Stockland Minta following a community naming competition.
The park is located at the corner of Soho Boulevard and Carnival Road.