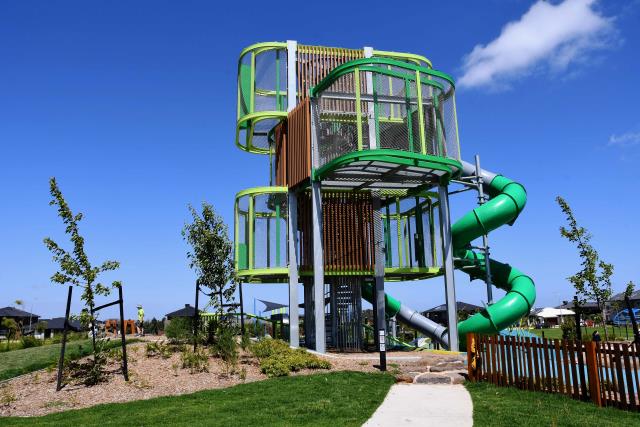 Kids love to slide.
They enjoy the thrill of climbing to the top and sliding down.
Here, the Kids Today team explores the best slides in Casey and Cardinia.
See how many you can visit. Just be sure to check the temperature of each slide before your child goes down!
Oaks Park Playground, Clyde North
This playground could very well be home to the longest tube slide in the City of Casey!
There are actually two huge tube slides that curl around a giant green and grey enclosed tower, which is the centrepiece of the park.
The popular playground also features a rock climbing wall, flying fox, climbing nets, tunnels, swings, slides, BMX and skate area, multipurpose court, a toddler area with a sandpit and shaded BBQ areas.
Location: Waterman Drive, Clyde North's Eliston Estate
Cardinia Community Adventure Playground, Pakenham
A brightly-coloured enclosed sky tower with three tube slides is the main feature of this popular adventure playground.
Called 'The Great Keep', the tower is skinny and tall with the slides coming out at various height levels. The first slide is a pretty standard height, however the other two are pretty long!
The playground also features a big timber play area, scooter track and swings.
There's also drinking fountains and barbecue facilities, while the toilets are a short stroll away.
Location: John Street, Pakenham
Casey Fields Playground, Cranbourne East
Weehee! A huge blue slide is the focal point of this adventure playground that has equipment for kids big and small.
The big curving slide is on 'adventure hill', which also features a bird nest swing and climbing areas.
The play space also has a pirate play structure and another playground that's great for younger kids, climbing nets, net bridges, a liberty swing for kids who use wheelchairs, plus a village green community space.
There's also barbecue and picnic facilities.
Location: 60 Berwick-Cranbourne Road, Cranbourne East
Highgrove Outlook Park, Clyde North
The massive tube slide at this awesome playground is sure to get your child's adrenaline pumping.
It's one of two slides attached to a tall grey and red rocket ship tower overlooking the park.
The smaller, but decent sized, slide allows kids to work up their courage to tackle the gigantic tube.
The playground also features a full size multipurpose court, seesaw, net swing and flying fox. While there are picnic facilities there are no toilets.
Location: Fitzwilliam Circuit, Clyde North
Encore Boulevard Playground, Cranbourne South
There's a large rocket play structure with a long tube slide at this relatively new playground.
After going down the twisted slide, kids can enjoy a range of equipment including swings, wooden obstacle course, large sandpit and waterplay area.
With shaded picnic benches, BBQ facilities and toilets, kids can slide for hours!
Location: Encore Boulevard, Cranbourne South's Brompton Estate.