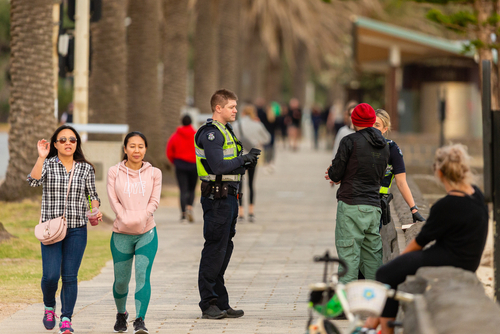 By Melissa Grant
Victorians will be allowed to have five guests visit their home as the state begins to relax coronavirus restrictions.
Up to 10 people will also be able to gather outside for recreational activities such as walking, hiking, golf and fishing – provided social distancing is maintained.
However, playgrounds will remained closed.
Premier Daniel Andrews said there was a need to be cautious as he outlined the first step to easing tough restrictions imposed to halt the spread of COVID-19.
Victorians will be able to have five visitors – family or friends – in their home from midnight Tuesday.
However, Mr Andrews has urged people to be sensible about the relaxed restrictions.
"(Whilst) it will be allowed for you to go and have dinner or a visit with family and friends, that doesn't mean -and it is not an invitation – to be having a dinner party at every house every night," Mr Andrews said.
"We have to use our common sense.
"We have to be proportionate, recognise that this is far from over.
"This is an opportunity for a first step that is safe, cautious and appropriate."
The eased restrictions will remain in place until 11.59pm on 31 May.
The state will review restrictions and potentially make further changes after that date.
For weeks, Victorians have only been able to leave home for the following four reasons: shopping for essential supplies; medical, care or compassionate needs; exercise in compliance with the public gathering requirements; and work and study if unable to work or learn remotely.
Mr Andrew's long-awaited announcement comes days after Prime Minister Scott Morrison outlined a three-step plan to lift restrictions across the country.
When making the announcement on Friday, Mr Morrision said it was ultimately up to the states and territories to decide what restrictions would be lifted and when.
Victoria has had some of the toughest COVID-19 restrictions in the country, with some even describing them as "draconian".
Mr Morrison said it was the aspiration, as agreed by premiers and chief ministers, that the country will have moved through his three step plan come July.
Mr Andrews said 141,000 of 161,000 coronavirus tests had been processed, with 30 cases uncovered.
"They're not connected to an outbreak, not connected to overseas travel," he said.
"It was the right thing to do that massive number of tests to confirm that. To basically show us that whilst the numbers are stable, there is a real need to be cautious."
In regards to schools, Mr Andrews said the state was close to finalising a plan for face-to-face learning to return before the end of term 2.
"We now believe that a gradual, staged return to face-to-face learning is safe, cautious and appropriate, given the testing we've done and the circumstances we face," he said.
HOW RESTRICTIONS WILL BE RELAXED IN VICTORIA FROM 11.59PM TUESDAY 12 MAY:
Indoor gatherings at home permitted, with five visitors allowed to visit the normal residents of a household
The ability to leave the house for exercise will be expanded to include outdoor recreational activities. These activities can occur in groups of up to 10 people outside, but requirements on physical distancing remain
Outdoor gatherings being permitted with up to 10 people
For weddings 10 guests are allowed in addition to the couple and the celebrant
For funerals, 20 people will be allowed at indoor ceremonies and 30 people at outside ceremonies.
Religious gatherings and ceremonies will be permitted with up to 10 people