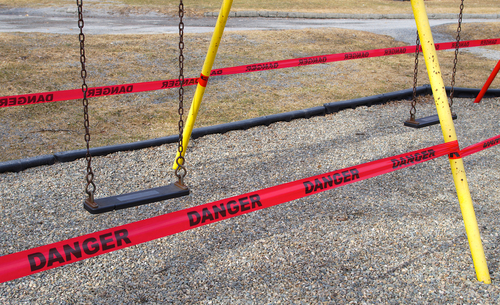 By Melissa Grant
Playgrounds will be among the facilities re-opened first as coronavirus restrictions are eased across the country.
Prime Minister Scott Morrison has outlined the a three-step plan to lift the restrictions imposed to help stop the spread of COVID-19.
However, ultimately the states and territories will decide what restrictions are lifted and when.
Step one will see the reopening of playgrounds, libraries, community centres and bootcamps. Five visitors will also be allowed at homes, and 10 people will be allowed to gather at businesses and public places. Restaurants, cafes and shops will also be opened but with gathering restrictions.
States and territories will decide when to move through the three steps outlined as part of the 'Roadmap to a COVID Safe Australia'.
Victorian Premier Daniel Andrews said he would announce changes to restrictions next week.
"They'll provide clarity to people about what the rest of May will look like," he said.
"We've got to spend the weekend going through further careful planning, analysing the results of the biggest public health testing blitz in our country's history (around 150,000 tests)."
Mr Andrews said the changes would be "considered and cautious".
Mr Morrison said it was the aspiration, as agreed by premiers and chief ministers, that the country will have moved through the three steps come July.
"The pace, though, will totally be up to the states and territories. They'll be responsible for setting their own timetable and communicating that to their citizens and residents in their own states and territories," he explained.
"It is also important to note that movement from one step to the next will depend on three criteria that we have always outlined, and indeed, that is enabled us to move today, a week earlier than planned.
"Those criteria again – that the medical evidence suggests that further easing will not present an undue risk, widespread testing is identifying community transmission, and thirdly, public health actions are able to trace cases and trap local outbreaks."
Mr Morrison again urged people to downlaod the COVIDSafe app, saying it would be even more important to keep families and communities safe as restrictions were lifted.
HOW RESTRICTIONS WILL BE LIFTED
STEP ONE:
– Five visitors at home, 10 in businesses and public places
– Work from home if it's working for you and your employer
– Restaurants, cafe and shops open (with number/distancing restrictions)
– Childcare centres, primary and secondary schools to open as per state/territory plans
– Libraries, community centres, playground and bootcamps open (allowed to have up to 10 people)
– Local and regional travel allowed
STEP TWO:
– Non-work gatherings up to 20 people (states and territories can allow higher numbers)
– Continue to work from home if it's working for you and your employer
– Gyms, beauty, cinemas, galleries and amusement parks open
– Cafes and restaurants allowed to seat up to 20 people at a time with distancing
– Up to 20 people permitted to participate in outdoor sports
– Caravan and camping grounds open- Some interstate travel allowed
STEP THREE
– Gathering sizes increased to 100, larger gatherings to be considered
– People allowed to return to the workplace
– Nightclubs, food courts and saunas open
– Cafes, restaurants, food courts can set up to 100 people with distancing- All interstate travel permitted
– Consideration of Cross-Tasman, pacific island and international student travel