When it comes to awesome playgrounds, Casey and Cardinia families are spoilt for choice.
And with multiple estates under construction across the municipalities, it seems like new playgrounds are popping up all of the time.
In recent years, some fantastic playgrounds have opened – all abilities playgrounds, playgrounds with water play, playgrounds with giant slides and parks featuring flat paths perfect for bike and scooter riding.
Here, we explore five relatively new playgrounds in Casey and Cardinia.
These playgrounds have opened in the past few years and some are only months old.  We can guarantee that young kids will love discovering these!
LIVVI'S PLACE CLYDE NORTH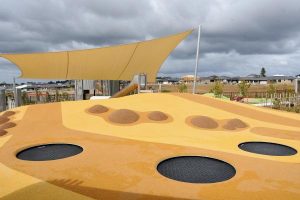 Water sensory zones, quiet spaces and a flight deck are among the cool features of a new all abilities playground in Clyde.
The playground has been specifically built with consideration given to children and families living with autism.
It is named 'Variety Livvi's Place' as the children's charity played a key role in ensuring the park would provide a safe, fun and welcoming experience for all children.
Play and behavioural child development experts helped design the park, located in Stockland's Edgebrook estate.
It features water sensory zones, quiet spaces and themed zones – to help children on the spectrum to find calmness in a busy play space.
You'll also find slides, swings, toilets and a shaded BBQ area.
The new all-abilities playground is located at the corner of Merribrook Boulevard and Caribbean Circuit, Edgebrook Estate, Clyde.
OAKS PARK PLAYGROUND, CLYDE NORTH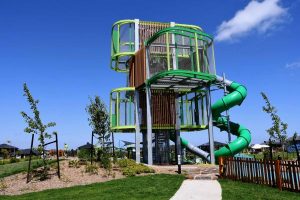 This playground could very well be home to the longest slide in the City of Casey!
There are actually two huge tube slides that curl around a giant green and grey enclosed tower, which is the centrepiece of the park.
The playground also features a rock climbing wall, flying fox, nets to climb, tunnels, swings, slides and a toddler area with a sandpit.
Right beside the playground you will find a BMX and skate area plus exercise equipment and a multi-purpose concrete court with a wall that's perfect for a hit of tennis.
There are also shaded barbecue facilities and flat paths that are great for bikes and scooters.
You will find this beauty on Waterman Drive in Clyde North's Eliston Estate.
ENCORE BOULEVARD PLAYGROUND, CRANBOURNE SOUTH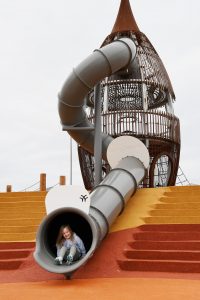 With a variety of equipment including a rocket play structure, kids will love launching into the new Encore Boulevard Playground.
There's so much to do at this park at Cranbourne South's Brompton Estate.
Kids will have a ball inside the hamster wheel and sliding down the bumpy slide.
There's also a variety of swings – including a tandem swing – plus a wooden obstacle course, large sandpit and water play area.
The large rocket play structure boasts a long tube slide. However, this piece of equipment is best suited for older kids.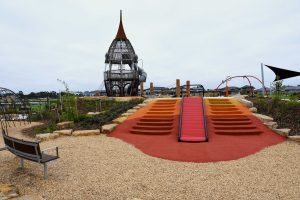 With shaded picnic benches, BBQ facilities and toilets, the park is the perfect spot to take the kids for lunch.
You'll find this new playground on Encore Boulevard in the Brompton Estate at Cranbourne South.
DEEP CREEK RESERVE, PAKENHAM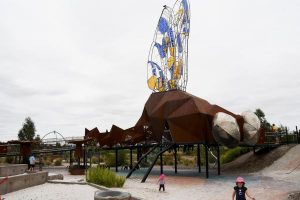 This state-of-the-art park boasts and all abilities play space plus sand and water play areas.
Kids will love exploring the centrepiece of the playground – a giant dragonfly.
There are a variety of swings (including a Liberty Swing), slides,
There is even a path around much of the playground, which is perfect for kids on scooters and mums with prams.
Importantly, the park has toilets and is fully-fenced. There are also barbecue facilities and shaded seating areas.
Just be sure to pack a spare change of clothes and a towel as the kids can get quite wet in the undercover water play area!
You'll find this awesome park at the end of Cameron Way, Pakenham.
FLANAGAN AVENUE PARK, OFFICER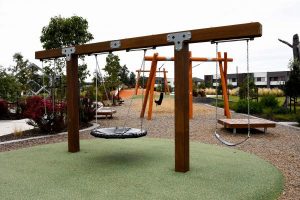 This expansive park offers plenty of fun for kids of all ages.
It features an all-abilities playground, skate ramps, flying fox and table tennis.
The playground includes a variety of swings, slide and a large net climbing structure.
There is plenty of open space that's perfect to kick a footy or soccer ball.
There are also plenty of pathways, which are perfect for kids on bikes or scooters and parents with prams.
And there are covered seating areas where you can sit back and relax.
The park is located on Flanagan Avenue in Officer's Arcadia Estate.