By Melissa Grant
The Puffing Billy Toy Library has a beautiful new home.
The toy library is now operating out of the Hills Hub in Emerald, having relocated from their temporary home at the Children's Centre at St Marks.
The toy library's Karli Lycett-King says the Hills Hub is the place to be.
"There are toilets, tea and coffee making facilities, a lounge area with children's toys, and even an art gallery upstairs. Not to mention being next door to Emerald library, a playpark, as well as across the road from some fantastic cafes," she said.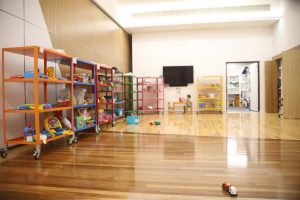 Joining a toy library has numerous benefits including testing toys before you buy, avoiding clutter, saving money and reducing hard rubbish.
The Puffing Billy Toy Library was closed last year during the pandemic, but moved locations when restrictions eased.
Since then, they've been tidying and organising the toys in their new location.
Saturday borrowing sessions resumed in early March, prior to the snap lockdown.
Karli says the toy library has a Covid safe plan that involves quarantining toys, limiting visitor numbers and additional cleaning and sanitising requirements.
There is a huge range of toys suitable from birth to the teenage years, including blocks, jigsaws, board games, farmyards, outdoor toys, fancy dress costumes, puppets and balance bikes.
There's different memberships, depending on how many toys you want to borrow and how much time you can volunteer. Prices start from $50 a year. Gift memberships are available.
They also offer party packs for hire that include tables, chairs, plates, cups and large games.
More information: www.puffingbillytoylibrary.com.au