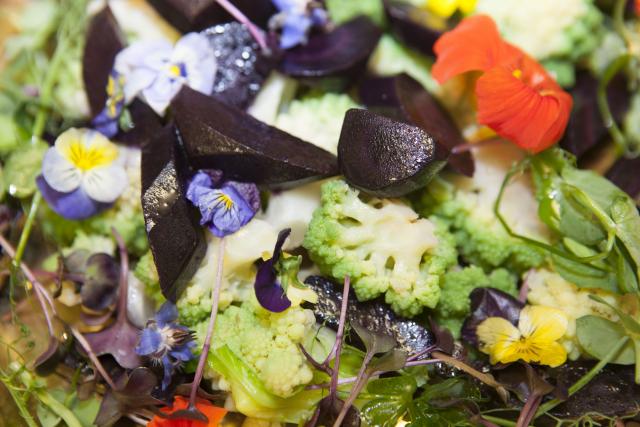 Bunjil Place has partnered with London-based creative studio Bompas and Parr to present a 24-day mini-festival as part of Casey's Winter Arts Festival.
From giant sculptures and guided tours to parties and the world's first edible mist, there's so much to do at Casey Cornucopia.
The Cornucopia Launch Party will run from 6.30pm to 8pm on Friday 24 June.
Take an exclusive first look at the Plaza's winter installation – The Cornucopia Garden.
There'll be local produce and drinks as well as live performances for the whole family to enjoy.
The Cornucopia Garden will be open from 10am to 10pm, Saturday 25 June to Sunday 17 July.
The Plaza will be transformed into an immersive garden abundant with oversized sculptures hidden amongst a swirl of the world's first edible mist.
Sit down to the Cornucopia Immersive Dinner from 6.30pm to 8.40pm on Friday 1 and Saturday 2 July.
Enjoy an immersive fine dining experience like no other as organisers fuse dining, design and performance against the backdrop of the beautiful Cornucopia Garden.
Multiple times are available for The Cornucopia Tour from Saturday 25 June to Sunday 10 July, and Saturday 16 and Sunday 17 July.
Interested in how things are made? Join this informative tour looking at the wacky minds and designs of Bompas and Parr as you step behind the curtain of Casey Cornucopia.
There'll be presentations daily in The Cornucopia Food Hub from Saturday 25 June to Sunday 17 July.
Casey-Cardinia's rich foodways come to life at this pop-up market stall food hub.
Meet local farmers, growers, artisans, sustainability gurus and artists for daily talks, demonstrations, samples and workshops.
At Art Bites: Bompas and Parr, from 7pm to 8.30pm on Thursday 7 July, spend an evening of delicious food, drinks and conversation with the creators of Casey Cornucopia, Bompas and Parr.
On Thursday 14 July from 6pm to 9pm, check out Night MODE: Abundance Edition.
Explore Bunjil Place after hours through late access to 'All the things I should have said that I never said' and Casey Cornucopia, adult art-making, drinks at bar prices, food, new live music, Library programs and book nooks, plus more.